By Josh Helcel
Published: June 3, 2019
Wild pig (Sus scrofa) populations continue to expand across Texas and the United States.  The 2012 estimate of approximately 2.6 M wild pigs in Texas is now over 7 years old, and population modeling indicated that over 3 M exotic invasive feral swine could now range across the lone star state (Timmons et al. 2012).  In addition to their rural and agricultural damage most often found by land managers and wildlife professionals, now even suburban homeowners are increasingly encountering the impacts of wild pigs within their city limits.  In order to document the scope of the wild pig epidemic in Texas and beyond, the Texas A&M Natural Resources Institute created a public wild pig reporting system.  This article will discuss how the system works, how to access it, the data that have come in thus far, as well as potential uses for the system in the future.  
About the system
Wild pigs and their damage are constantly being observed across Texas, but until recently, we didn't have a reliable method of collecting information on wild pig numbers - where they were sighted and the extent of their damages.  NRI's wild pig reporting web-page, developed by the institute's data analytics team, provides a unique portal for such data to be reported not only in Texas, but anywhere wild pigs are observed.  A wild pig report only takes a few minutes to complete, and this valuable information can be anonymously contributed to a database that will allow everyone to better understand the breadth of the wild pig problem.  The system has a location feature with a GPS map interface, and this allows each wild pig report to document the location of each sighting.  Users can also contribute photos and provide any additional information relevant to each sighting.
How to report wild pigs
NRI's wild pig reporting tool is housed within the institute's wild pig website.  In addition to contributing wild pig reports, the website allows users access to numerous free resources on wild pigs including publications, videos, articles, social media and other educational media.  Website users can also stay up-to-date on the latest wild pig news, transportation and sale guidelines, learn about upcoming workshops and events, and even discuss specific wild pig concerns directly with NRI staff and other experts on this exotic invasive species. 
Wild pig reporting data so far
The first public wild pig report was logged on October 5, 2018.  Since then, over 1,155 sightings have been reported across Texas (Figure 1).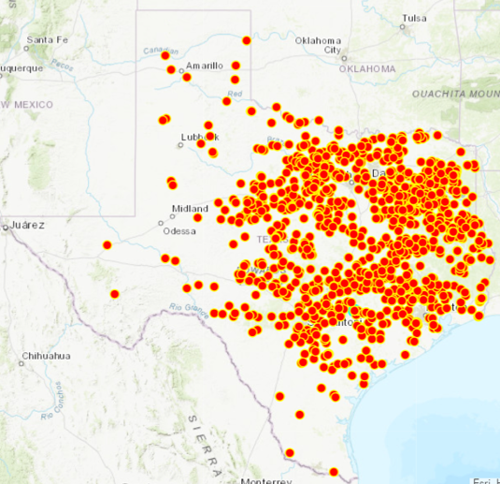 Figure 1. Map of Texas showing the distribution of over 1,155 wild pig reports across Texas as of 5-3-2019.
A total of 22,887 wild pigs have been observed across 177 of 254 counties (69.7%) in just over 8 months of reporting.  While the data are still preliminary and many more contributions will be needed to reliably discern trends, reported sightings are beginning to align with the previous NRI estimate of 79% of Texas being suitable habitat for wild pigs (Figure 2).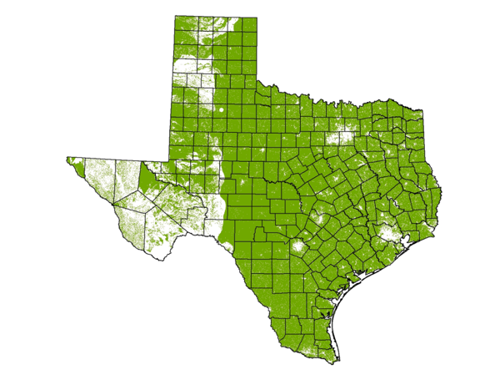 Figure 2. Map of Texas depicting approximately 79% of Texas as suitable habitat for wild pigs.
The majority of reported sightings (58.6%) were of juvenile wild pigs (13,408).  The remaining 41.4% of reported sightings cataloged 9,479 adult wild pigs.  The most reported county in Texas to date is Smith county, which had amassed 4.07% of all reported wild pig sightings as of the first week of March 2019.  Observed damages by wild pigs included 1,020 rooting events (88.24%), 476 wallows  (41.18%), 410 lawn/landscaping damages  (35.47%), 328 rubbing  events  (28.37%), 259 occurrences of fence damage  (22.40%), 245 crop damage events (21.19%) and 185 instances (16.00%) of wetland damage (Figure 3).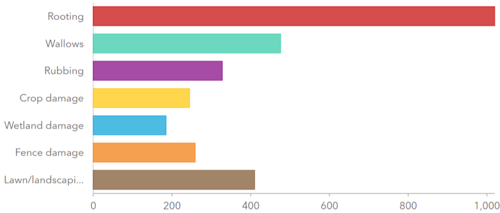 Figure 3. Graph showing wild pig damage by type and frequency as reported to NRI's wild pig reporting system as of 5-3-2019.
Over 189 photos have been submitted of wild pigs and their damages. One image from Wise county, TX depicts an adult horse that was allegedly attacked by one or more of the 5 adult and 15 juvenile wild pigs reported on November 21, 2018 (Figure 4).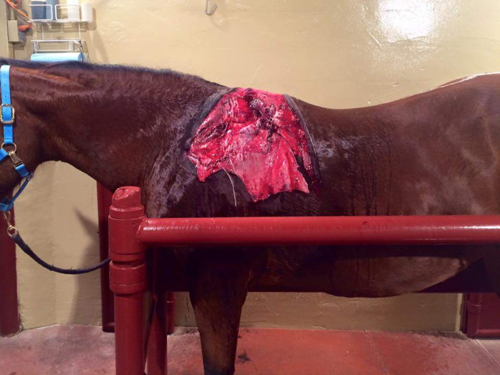 Figure 4. Image of an alleged attack by wild pigs on an adult show horse in North Texas. The attack was reported to the NRI wild pig reporting system on November 21, 2018.
Along with the photo, the contributor stated the following:
"Wild hogs are a daily problem for us. They've gone after our horses (severely injuring my show horse while she was lying down to sleep), constantly damage our fields, and made it so bad this past spring we couldn't even plant our regular hay crop for the winter months. We shoot them often, have a friend who traps and bow hunts on our ranch daily, but their numbers keep climbing…"
Potential future uses
For now, the data are housed internally to support the institute's outreach efforts and to help locate areas of high activity in order to guide management and educational efforts across Texas. We hope the reporting tool will inform and aid efforts of collaborators such as Texas Wildlife Services (TWS), Texas Parks & Wildlife Department (TPWD), the Texas Animal Health Commission and others. Whether to identify counties to concentrate aerial gunning or other control efforts, or to conduct disease related or other sampling activities, wildlife and resource professionals have numerous potential options for utilizing the data collected.  However, efforts are already underway by NRI's geospatial team to create an interactive and public component to the system.  In the near future, anyone will be able to view relative concentrations of wild pigs both in real time and historically via NRI's online wild pig reporting system. Keep in mind that the exact sighting locations will be held in confidence. This may provide a benefit to urban/suburban city planners, potential home buyers, homeowners associations, and a variety of other public interests.  The wild pig reporting system may even provide hunters valuable insight on exactly which Texas county may be best for wild pig hunting. A number of other potential future uses for the system continue to be discussed, but the most critical component to the success of the system remains the continued and expanded contribution of wild pig reports by the public.   
Conclusion
Despite the relatively short time that NRI's wild pig reporting system has been available, the data collected are beginning to provide valuable insight on wild pigs and their damages across Texas. Trends in wild pig distribution continue to establish, as well as relative damage frequencies by type, most reported Texas counties and proportions of juvenile to adult wild pigs. Additionally, the reporting system is already providing some surprising insights on wild pig behavior. Wild pigs remain a tremendous detriment to the agricultural production, water quality, native species, habitat and even urban landscape of Texas.  Please consider helping Texas gather as much information as possible on this destructive invasive species by reporting wild pigs whenever you can.
To report wild pigs click here: http://bit.ly/ReportWildPigs
--
Literature Cited  
Timmons, J. B., B. Higginbotham, R. Lopez, J. C. Cathey, J. Mellish, J. Griffin, A. Sumrall and K. Skow. 2012. Feral hog population growth, density and harvest in Texas. Texas A&M AgriLife Extension Service SP-472.
Share this article